Ancestral Origins™ DNA Test
From $299
Order Now!

Discover your ancient anthropological origins and ancestral past with our Ancestral Origins DNA test. Begin tracing your genetic roots and finding your links to specific geographical regions and tribes with this unique ancestry test. The test we offer is a genetic test starting with a simple DNA sample collected by means of a mouth swab, Who'zTheDaddy?™ can provide you with a detailed report about your origins.
Click here for a sample Ancestral Origins DNA Analysis Report.
Results are ready in 2-3 weeks from receipt of samples.
Important: Please note that Who'zTheDaddy?™ does not provide a raw DNA result file of this ancestry test.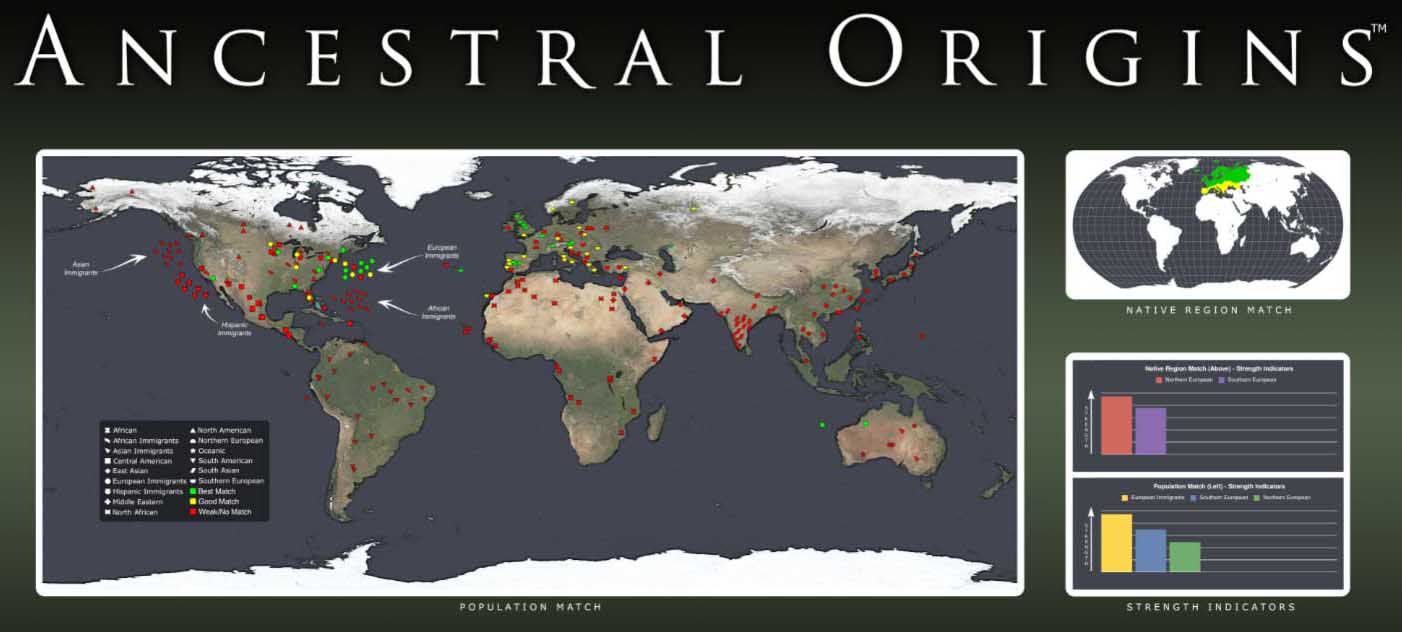 Upgrading your ancestral origins
Our ancestral origins test is a great way of increasing the knowledge of your ancestry, adding to the information provided with our standard ancestry origins test. For just $60, you will receive:
A pie chart with a breakdown of your genetic origins and the world regions your ancestors belonged to
An explanation of the information in your pie chart, explaining the world regions
View the additional report for your ancestry upgrade by clicking the below image.

Professional Consultation
We offer a professional telephone interpretation once you receive your Ancestral Origins DNA Ancestry map and report. Consultation sessions are up to 15 minutes in length and are provided by telephone only. If ordered at the same time as submitting your samples for testing, the advanced purchase price per consultation session is $140. This service can be purchased after you receive your map for $150 per session. Consultation sessions may not be recorded or reproduced without the expressed written consent of Who'zTheDaddy?™.
Science behind the test
Years of scientific research and anthropological studies have made this test possible. Your ancestors have left specific genetic markers on your DNA. These genetic markers are unique to your ancestral clan and have been passed down for many centuries and inherited by you, here in the present day. Ancestral Origins™ DNA Ancestry Testing is unique in that is gives clients the chance to connect to various studies of populations around the world. The test works by comparing your DNA profile to our vast database of genetic information for thousands of populations as well as 14 anthropological regions. We run your DNA profile through this database, looking for matches between your DNA and that of the populations stored in our database. A match indicates between any one of these populations and your DNA indicates that these are your ancient relatives. Each of these ancestral populations is directly linked to the region from which they originated and thus, we can connect you to your ancestral home land by knowing the studied populations to which you belong. This test will help you learn a lot about origins you never would have even imagined you had. For example, your population matches could indicate Irish, Turkish or Romanian descent.
Sample Collection
Our sample collection kit will enable you to collect a sample of your DNA which we can then test in our lab. Your DNA can be collected with the sterile swabs you find inside our kit. A simple, quick, thirty-second rub inside your mouth using the swab is all that is needed to collect the DNA sample that the laboratory needs to verify your origins. Besides providing you with the mouth swabs, you will also receive instructions and consent forms. Once you have collected your samples and filled in the forms, you send everything back to us using the pre-addressed envelope inside your kit (Please note the pre-addressed envelope does not include postage and we recommend Recorded or Special Delivery).
FAQs
Do you offer any other types of ancestry testing?
Who'zTheDaddy™ offers different types of ancestry and lineage testing so depending on what you wish to find out, you can pick one of the tests we offer. Our paternity and maternal lineage testing services for example, can help you trace your ancient ancestry from your mother's side or from your father's side. Why not read more about our paternal lineage and maternal lineage testing.
Can you provide me with further information about ancestry testing?